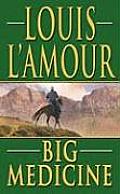 In a collection of Louis L'Amour stories, I came across this passage in Jon Tuska's introduction, explaining how L'Amour's first sale in the western genre eventually produced his first bestseller:
L'Amour sold his first Western short story to a slick magazine a year later, "The Gift of Cochise" in Collier's (7/5/52). Robert Fellows and John Wayne purchased screen rights to this story from L'Amour for $4,000 and James Edward Grant, one of Wayne's favorite screenwriters, developed a script from it, changing L'Amour's Ches Lane to Hondo Lane. L'Amour retained the right to novelize Grant's screenplay, which differs substantially from his short story, and he was able to get an endorsement from Wayne to be used as a blurb, stating that Hondo was the finest Western Wayne had ever read. Hondo (Fawcett Gold Medal, 1953) by Louis L'Amour was released on the same day as the film, Hondo (Warner, 1953), with a first printing of 320,000 copies.
Making the Hollywood connection was clearly important to L'Amour's career path, which at this critical point hardly followed the model of a lone author sticking to his creative vision, unswayed by money and celebrity.
The movie
Hondo
couldn't match up to George Stevens's
Shane
, a masterpiece released a few months earlier. Jack Schaefer's novel
Shane
is quite good as well. As with L'Amour, it was Schaefer's first successful foray into the western genre, and it defined his career.