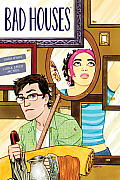 While reading
Bad Houses
, a graphic novel by Sara Ryan and Carla Speed McNeil, I got to thinking about the
trope of the "Manic Pixie Dream Girl."
Because one of the story's main characters, Anne, could fit that mold. She dresses quirkily. She has interesting hair—with a stripe of dye and locks designed to look like a sunflower, as revealed by making-of pages in the back of the book. And her romantic interest definitely jolts the story's young male lead, Lewis, out of a rut.
But Anne's not a "Manic Pixie Dream Girl" because the story isn't told just from Lewis's point of view. We also get to see Anne's story, including her background and secrets, down to her embarrassment about the hole in her bright striped stockings. We also see the stories of the young people's mothers, one a hoarder filling up a house and the other an estate-sale specialist emptying them.
So one key to avoiding the cliché of the "Manic Pixie Dream Girl" may be—surprise!—to treat young women as full characters in their own right.