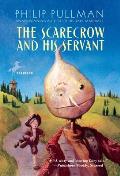 Princeton's Cotsen Children's Library has a podcast called "Bibliofiles," and this comes from
its new conversation
with author Philip Pullman:
I've written four fairy tales. I call them fairy tales—I Was a Rat!, Clockwork, The Firework-Maker's Daughter and The Scarecrow and His Servant. They're different from my novels because the characters are flat rather than round. That's the way I think of it.

When I'm doing a novel such as the Sally books or "His Dark Materials," the purpose, what you're trying to do, is make the characters as real as you can make them, which involves a certain amount of three-dimensionalism. Now you know they've got depths, depths sometimes which they're not aware of themselves. So you want to make those characters as real as possible.

But in a fairy tale, such as the four books I've mentioned and of course, "Puss in Boots," I've done that, and the Grimm tales, the Tales from the Brothers Grimm, character isn't such an important thing. All the characters in a fairy tale are pretty flat, really. They don't have much depth. And the interest of the story is not in the psychological complexity of the character so much is in the incident and what happens and what succeeds and will follow it. So they're different kinds of writing.
Pullman is of course pulling from E. M. Forster's
Aspects of the Novel
, as well as the Victorian distinction between "novels of incident" and "novels of character."