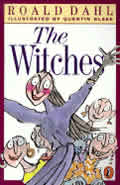 From
Stephen Roxburgh's recollections
of editing
Roald Dahl
's
The Witches
thirty years ago, just published in
Publishers Weekly
:
On May 16, I sent Roald our American copyeditor's queries, three closely typed pages of minutiae, most of it involving using American English rather than British English. Roald wrote, "I don't approve of some of your Americanisms. This is an English book with an English flavour and so it should remain." Here are a few examples:

"elevator vs. lift: I agree elevator for 'lift' because most American children simply won't know what 'lift' means.

"candy vs. sweets: I do not agree 'candy' for 'sweet.' Your children will know what sweets are and anyway it's important for the witch to say "Sveet-shop." So no candy or candy-shops, please.

"tuna fish vs. fish-paste: I won't have 'tuna fish' for "fish-paste.' Please keep this Anglicism. It's a curiosity even over here."
I'm pleased that even though Dahl began with a broad statement about "Americanisms," he made his actual choices based on how well the text would communicate to young American readers.
Also notable in this article is that Dahl originally thought
The Witches
needed a more conventional ending, as forecast in its original beginning: "I myself escaped twice from the clutches of witches before I was eight years old, and for that I have to thank my grandmother."