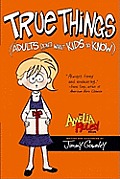 Here's Jimmy Gownley, author of the
Amelia Rules!
series, on the
Comic Book Diner
podcast a couple of years back, talking about his response to criticism that his comic for kids shouldn't tackle tough emotional topics:
The trick, and this is the hokiest thing in the world and is completely corny and you guys will be like rolling your eyes, but I always picture like writing Amelia for one person: the saddest little girl in the world. Okay? . . .

You don't know if she has any friends, you don't know if she has any family or any money, but she's, like, in a library, right? And she's just miserable. And she has this book.

And so what am I going to say to her? Well, I want to say something that's funny, hopefully. I want to say something that's uplifting, ultimately. But I also want to say something that's true, because false hope isn't hope. It's just a lie.

So that's what I try to do. And the truth of the matter is that sometimes childhood is not "suitable for children."
These remarks appear at about 42 minutes into podcast episode 50. I can't find a link to that episode on the Comic Book Diner website, but cohost John Gallagher
has a link here
.