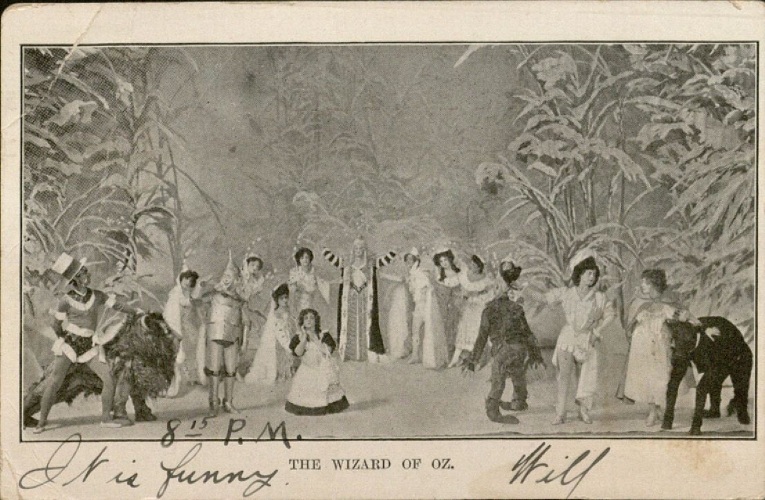 This 1906 postcard shows a scene from the popular stage extravaganza based on L. Frank Baum's
The Wizard of Oz
. The producers made such cards available at the end of each performance in the hopes that people would recommend the show to their friends—as "Will" did with this one.
The Cowardly Lion is at the left, Imogene the Cow (the show's more-easily-performed substitute for Toto) at the far right. The Tin Woodman stands above the word "funny" and the Scarecrow above the W in "Will." Dorothy kneels near the center. The figure upstage in the center with striped sleeves is the Good Witch, bringing on a snowstorm to counteract the effect of the Poppy Field—a plot point invented for this show and then reused in the 1939 MGM movie.
This postcard is from the University of Kansas library's new
"Magic of Oz" exhibit
, featuring documents and artifacts from the collection of alumna Jane Albright. Jane's been very active in the International Wizard of Oz Club for many years, especially in organizing events.
Unfortunately, the opening of this exhibit has coincided with a health crisis in Jane's family, so she's been unable to visit it herself. Everyone in the Oz fan community wishes Jane's husband a swift and full recovery so they can enjoy sharing her impressive collection with folks in Kansas.