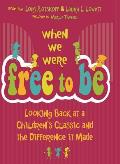 The H-Childhood list just
published a review
of
When We Were Free to Be: Looking Back at a Children's Classic and the Difference It Made
, a scholarly anthology looking back on
Free to Be…You and Me
edited by Lori Rotskoff and Laura L. Lovett:
In their introduction to the collection, Rotskoff and Lovett note that "the landscape of childhood (now) harkens back to the sharply divided sex roles of the Leave It to Beaver era," a shift that left them asking: "What happened to the ideals that inspired Free to Be ... You and Me?" (p. 2). It is this broad and deeply important question that motivates the book, a nostalgic look back that is firmly rooted in a thoughtful social and political analysis. They treat the original text "as an artifact that registered concerns unique to the moment that produced it, and as a cultural landmark that still generates new meanings today" (p. 3). Overall, the collection attends not only to questions of gender, which are of course central, but also to their intersections with questions of race, ethnicity, and to some extent sexuality. . . .

One of the many strengths of this collection comes from the great variety of vantage points from which the contributors reflect on and analyze this cultural phenomenon and its impact forty years later. Rotskoff and Lovett are historians, and the collection includes pieces by other academics: specialists in history, sociology, psychology, politics, gender studies, and cultural studies. Some contributors are celebrity artists and activists, like Free to Be's creator Marlo Thomas herself, as well as Alan Alda and Gloria Steinem. They are joined by composers, producers, television and film writers, and performing artists of many stripes. Some contributors are leading journalists and bloggers who write about gender issues, family, media, and politics. . . .

Right from the outset, in their introduction, the editors explicitly welcome readers drawn to the title by their own personal memories of Free to Be, and the book is written and edited in a manner that will indeed welcome those readers. But there is also thoughtful, nuanced work of scholarship here. The essays engage Free to Be from a diverse array of perspectives, situate it in a clear and compelling historical context, and bring to bear satisfying cultural analysis and cultural criticism.
Free to Be…You and Me
wasn't one of my favorite books by any means, but it was certainly a touchstone of my childhood. I recall school chorus presentations based on it. In college I became friends with a girl who appeared in the accompanying movie.
In fact, growing up in a progressive family and suburb, it was hard to imagine anyone rejecting its affirmations. Even now I find myself considering issues of gender through the lens that
Free to Be
provided (which actually feels somewhat limiting when it comes to transgender issues).