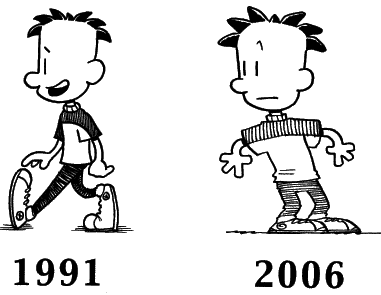 One of the minor pleasures of visiting my dad in the Washington, DC, area is the
Washington Post
comics page. For some reason it's unusually large. (Perhaps the Rev. Sun Myung Moon, founder and major owner of the rival
Washington Times
, didn't like comics?)
Among the comic strips I enjoyed there, years before it came to the
Boston Globe
, is
Big Nate
by Lincoln Peirce. Given its quality and longevity, and its appeal to kids, I assumed that there were
Big Nate
collections like the bestselling collections of
Peanuts
,
Garfield
, and
Calvin and Hobbes
when I was young. But with fewer and fewer children reading newspapers, that ready market no longer existed.
Lincoln Peirce kept plugging away, the way daily-strip artists have to do. He also generously offered advice to a hopeful artist eight years younger. This
Washington Post story from five years ago
tells that story:
It was the early '90s, and [Jeff] Kinney was an aspiring cartoonist at the University of Maryland, as well as a big fan of the comic strip "Big Nate," which he read in The Post. Kinney wanted advice on how to break into the business, so he wrote several cartoonists, including Peirce, creator of the recently syndicated "Big Nate."

Up in New Hampshire, Peirce was struck by Kinney's outreach. "His letter was so different from other letters," Peirce recalls. "And not just because it was five to six pages long. Even early on, he was very talented and very ambitious."

Instead of eyeing him warily, Peirce did the professionally generous thing: "I wrote him back."

Kinney the college cartoonist was thrilled. "It was a handwritten letter, which included many drawings that provided guidance on how I could improve my prospects," he recounts.

For more than two years, mentor and student exchanged handwritten and hand-drawn insights into their craft.
Meanwhile, the world wide web grew, and the newspaper business shrank. It was not a good time to start a career as a daily newspaper cartoonist. Kinney ended up working as a designer for an online "edutainment" company.
TOMORROW: Returning the favor.
(Thanks to Karen Jordan Allen for the link.)