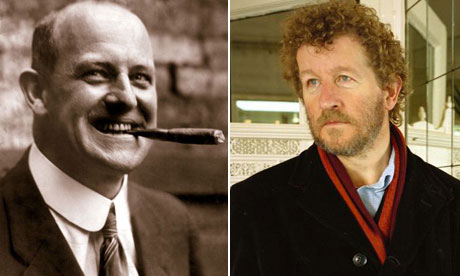 Speaking of
British publishing's fanfiction
, this autumn will bring the first authorized revival of
P. G. Wodehouse
's Jeeves and Bertie series, as
The Independent reported
in March. Hutchinson will publish
Jeeves and the Wedding Bells
in Britain, and St. Martin's will publish it in the US.
The authorized author is Sebastian Faulks, a respected British novelist (
Birdsong, A Week in December
) who already wrote a well received pastiche of Ian Fleming's James Bond novels in
Devil May Care
.
In
The New Statesman
,
Michael Moran wrote
:
I don't describe Wodehouse as inimitable because I like his stuff. I describe Wodehouse as inimitable because he cannot be imitated. One might imagine Craig Brown or Hugo Rifkind making a decent fist of a Wodehouse knockoff for a page or so but a whole novel? This is hubris. We already have in the 11 Jeeves novels and 35 short stories an ample supply of Wodehouse's wit. We have no need of ersatz Plum.
And Wodehouse biographer Robert McCrum
told The Guardian
:
Wodehouse is a much tougher egg than Fleming and 007/Bond. For a PG Wodehouse fan to write a new Jeeves novel is a bit like asking a devout Christian to come up with a fifth gospel. . . . It looks perilously like Mission Impossible to me, but I wish Faulks the very best of luck. If anyone can pull it off, he can.
McCrum was himself authorized by the Wodehouse estate to write that biography, but it's no hagiography.