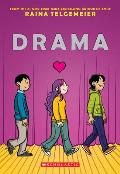 There are three major girl characters in
Raina Telgemeier
's graphic novel
Drama
: protagonist Callie, her best friend Liz, and a classmate named Bonnie who fills the three roles of middle-school queen bee, Callie's romantic rival, and leading lady in the school play.
In contrast, there are
six
major boy characters, by which I mean characters involved on one side or the other of the story's many crushes and tentative relationships. My count includes Callie's brief initial boyfriend Greg, his younger brother Matt, twins Justin and Jesse, leading man West, and stage manager Loren. (I'm not counting male members of the stage crew who appear throughout the book but stay outside the romantic roundelay, nor Callie's little brother.)
Numerically, that ratio is quite different from my understanding of middle-school theatricals: that a director has to find parts for about a dozen boys and four dozen girls. True, Callie's on the stage crew. (In fact, she spends much of the book solving a technical problem involving a timed explosion—no sewing costumes for her!) But Callie's circle is divided between people working in front of and behind the curtain.
Telgemeier's male-heavy cast would also appear to present problems if
Drama
were headed for the classic comedic ending with all the boys and girls neatly paired off. The book is, after all, framed and structured as a play itself, with the cast members walking on stage in the first pages and a spread labeled "Intermission" partway through.
But this story is about a modern middle-school drama club. The book not only acknowledges homosexuality but puts it at the center of the plot. In fact, the only pairing that appears still to be on its feet at the end of the book is between two of the boys. But despite all the lines and color on cheeks, no one in the cast has actually died of embarrassment, and in middle school that's about as much as you can hope for.