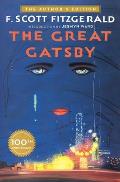 Sunny Chanel at Babble bribed her six-year-old daughter with toys to look at the covers of various famous adult novels and
guess what they were about
.
About
The Great Gatsby
, our young critic said:
I think it's a book about a haunted theme park and it stars a magical magic guy and he's good and evil and he's trying to get rid of the ghosts. And I think at the end, since it's haunted by a ghost, he tried to make the park go on fire and it did.
Now
that
could sell.
A few years back I was doing research in the Special Collections at Princeton University Library, and I spotted the
Great Gatsby
cover hung over one staffer's desk. Except that it was the original cover art, part of the Charles Scribner's Sons collection. How'd you like those eyes looking down on you all day?