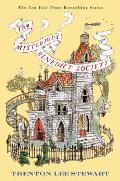 At one point in Trenton Lee Stewart's
The Mysterious Benedict Society
, a character demands, "Is it really as great as all that? . . . Sitting in a stupid chair doing nothing?" She's referring to the experience of being in the Whisperer, a mind-control device in the novel.
That description could also be applied to watching television, which the book is quite down on. In fact, the Whisperer involves kids going into a trance-like state and repeating an adult's thoughts because, for the sort of fantastic reason necessary in middle-grade fiction, the machine needs preadolescents to be effective.
For that matter, "sitting in a stupid chair and doing nothing" might be one way some folks would describe reading.
Ironically, a great deal of the first chapters of
The Mysterious Benedict Society
consists of characters sitting in a chair doing nothing but listening to other characters. In that part of the book, Stewart sticks quite closely to the point of view of Reynie Muldoon, foremost of the book's protagonists. Only later does the narrator move into the heads of Sticky Washington, Kate Wetherall, and other characters, and only later does the action heat up.
As a result, in those early chapters, we readers learn about the other characters' experiences and the requisite Threat to the Entire World as Reynie listens, sitting in a stupid chair and doing nothing.