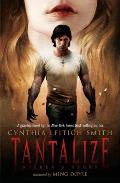 Today artist Ming Doyle signs copies of Tantalize: Kieren's Story, a graphic retelling of the events in Cynthia Leitich Smith's novel Tantalize, at the Brookline Booksmith.

In honor of that event, this weekly Robin quotes from Smith and Doyle's Newsarama interview:

Nrama: What characters in comics would you like to write/draw a story with?

Smith: I've always been fond of Tim Drake/Robin. I suppose it's the YA writer in me. I enjoy the intensity of young, smart heroes. I'd love to write him in either graphic or prose form.

Doyle: Tim Drake's actually a character I have a lot of interest in as well! In general, I've always been drawn to the Bat family and its associates.
Smith has also expressed her
admiration for Wonder Woman
. Of course, that was before the DC Universe's latest retelling.