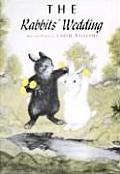 Yesterday Anita Silvey's
Book-a-Day Almanac
spotlighted
The Rabbits' Wedding
by
Garth Williams
:
Published first in 1958, The Rabbits' Wedding features black and white rabbit protagonists. The artist most likely chose these colors to help delineate the two characters in a limited-color book, but adults interpreted this lovely romp in the forest as an endorsement of interracial marriage.

As Leonard Marcus recounts the controversy in Minders of Make-Believe, the Montgomery Home News condemned the book, then Alabama politicians rallied against the book and spoke out against the director of the Alabama Public Library Service Division, Emily Reed.
Showing how much things have changed, the
most frequently challenged book in America last year
was
And Tango Makes Three
by Peter Parnell and Justin Richardson, a picture book about two male penguins who raise a chick together. Adults interpret that true story as an endorsement of same-sex marriage.
Some people just don't like seeing certain cute little animals happy together.