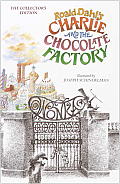 The press in both Britain and America is
abuzz with reports
that Roald Dahl originally wrote of Charlie Bucket, hero of
Charlie and the Chocolate Factory
, as black. These grew out of a radio interview with Dahl's widow and his authorized biographer, Donald Sturrock.
In fact, Sturrock reported how Dahl's early drafts described Charlie as a "small NEGRO boy" back in 2011 in his biography
Storyteller
. At that stage the novel's plot turned on Charlie being sprayed with quick-drying chocolate and mistaken for one of Willie Wonka's "chocolate boys," an awkward state that nonetheless lets him witness a theft and solve a mystery.
Dahl already had his eye on the American market, with agents in New York and Hollywood and direct contact with editors at Alfred A. Knopf. His widow, who didn't meet Dahl until a decade after he wrote
Charlie
, suggested that a part-American sensibility was why he first imagined the young hero as black. Of course, it might simply have been a mental association of chocolate and brown skin.
In the radio interview Sturrock said that an agent recommended that Dahl drop that idea. He didn't name the agent, but he used the pronoun "she," ruling out Dahl's British representative, Laurence Pollinger. According to Sturrock, "She said people would ask: 'Why?'" Which might have been an unfortunate reflection of the U.S. market, or might have been a polite way of warning Dahl off of a racial stereotype.
As we know, in subsequent drafts Dahl stopped describing Charlie as black and also gave Willie Wonka an enslaved African workforce. That should undercut any simple suggestion that Dahl was unusually enlightened in imagining a black hero for a children's novel in the early 1960s.