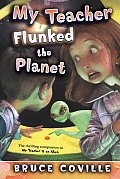 Highlighting Patrick Hogan's essay
"A Children's Book About Aliens Turned Me Into a Socialist"
at Splinter, about the
My Teacher Is an Alien
series by Bruce Coville:
When I spoke with Coville over the phone, he said the social justice bent of the series was a bit of an accident after the surprise success of the first book, which was intended to be a one-off adventure novel. His other novels (and he has written a lot of novels) rarely indulged in politics, but he was inspired to add an element of social criticism the Teacher is an Alien series after reading the book Savage Inequalities by Jonathan Kozol.

"The pleasure of writing about aliens is they could see our nonsense from the outside," Coville told me. "It's an insane way to live."

In the final book, My Teacher Flunked the Planet, the child protagonists of the first three volumes are given the task of convincing the Interplanetary Council to not blow Earth up (the planet having, as the title hints, flunked its alien evaluation). As part of the assignment, their alien teacher, Broxholm, takes them on a tour of Earth and asks them to answer for humanity's behavior. They hit up war zones, impoverished cities and, most notably in my memory, a refugee camp . . .

That's dark stuff for 8–12 year olds. It was dark for Coville, too, who said the research he conducted for the segment of impoverished and war-torn areas of the world was harrowing.

"I got away with it because it was the fourth book of the series," he said. "That book sold a million to a million-and-a-half copies but I feel like a lot of it was a secret between me and the kids who read it."
Hogan recalls only one other title in his school library with a waiting list:
How to Draw Comics the Marvel Way
.