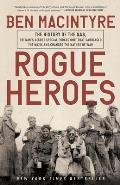 In a conversation with novelist John Le Carré arranged and
recorded by the New York Times Book Review
, the espionage historian Ben Macintyre spoke of being recruited for the British secret service MI6 by a man calling himself "Major Halliday":
It was the typical sort of tap on the shoulder. It was quite amusing, really. A don that I didn't know terribly well came barreling up and he said, "What are you doing after university?" I said, "I don't really know." And he said, "Well, there are some parts of the Foreign Office that are different from other parts of the Foreign Office. In a sense, they are different from the Foreign Office itself." He went on for about five minutes. Of course, I knew exactly what he was saying, although he never actually said it.

So I went along to Carlton House Terrace [where MI6 had an office]. And there was very clearly more than one Major Halliday, because other people I know were recruited by a completely different Major Halliday. Mine had on socks and sandals, which was quite upsetting at the time.
Le Carré's new novel is
A Legacy of Spies
. Macintyre's latest is
Rogue Heroes
.