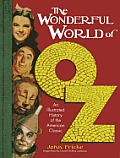 Here in Boston tonight, the Revere Hotel's Emerald Lounge will host an
evening of Wizard of Oz trivia
.
The host will be John Fricke—author, stage performer, and past editor of
The Baum Bugle
. His book
The Wonderful World of Oz
, and practically every other book on the MGM movie, has been reprinted for its 75th anniversary this year.
The bar's announcement adds:
The evening will also feature themed craft cocktails, like the Ozmopolitan (Grey goose cherry noir, St Germain, claret syrup, fresh lime juice, simple syrup, lemon zest) and Dorothy's Time Out (Bacardi Gold, Crème de Casis, lime juice, simple syrup, soda water), along with complimentary cupcakes in honor of Toto's 80th birthday.
Lots of giveaways and prizes for the top trivia teams.