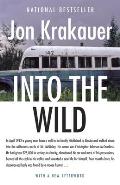 Earlier this year Jon Krakauer, author of
Into the Wild
, published a
follow-up article
on the
New Yorker
website. That book described the death of Christopher J. McCandless in the Alaska wilderness in 1992; it prompted widely varying reactions.
Krakauer's article suggested that a hitherto unrecognized factor in McCandless's death is that he had been eating seeds from the wild potato
Hedysarum alpinum
. People thought this plant was non-toxic, but Krakauer wrote that new laboratory testing showed it contained large amounts of an amino acid that cripples the nervous system. He
shared the lab's report
.
Last month
Chemistry and Engineering News
asked experts to
review the lab findings
. They replied that the high-performance liquid chromatography (HPLC) results don't show what Krakauer understood they did. Certainly my untrained eye sees stark differences between the HPLC charts for another seed known to contain the amino acid and the Alaskan samples tested. That's not just what different compounds appear but the quality and complexity of the readout.
The
C&E News
experts don't say the neurotoxin theory is untenable; they say the lab test didn't offer results good enough to interpret one way or another, so it's far from proven. They also suggest that a mass spectrometer and other tests would be more reliable.
The journal spoke to an Alaskan professor who'd analyzed the same type of seeds for Krakauer years back and found no toxins; he seems relieved that his findings haven't been contradicted after all.