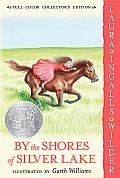 CNN reported
on a paper in the latest
Pediatrics
coauthored by Dr. Beth Tarini, which had its genesis in this conversation:
"I was in my pediatrics rotation. We were talking about scarlet fever, and I said, 'Oh, scarlet fever makes you go blind. Mary Ingalls went blind from it,'" recalls Tarini, who is now an assistant professor of pediatrics at the University of Michigan. My supervisor said, "I don't think so."
Which is the sort of exchange an intern never forgets.
Tarini was thinking of
Laura Ingalls Wilder
's
Little House on the Prairie books
and television series. But those turn out not to be medically accurate. Scarlet fever might produce temporary blindness, but its hallmark is a rash. No letters or newspaper stories about Mary Ingalls's illness described that symptom. Instead, contemporaneous sources said she suffered from "severe headaches" and partial paralysis of the face.
Finally, and perhaps the most important piece of evidence, in a letter Wilder wrote to her daughter, Rose, right before her book By the Shores of Silver Lake was published, she makes reference "some sort of spinal sickness". The letter also mentions that Mary saw a specialist in Chicago who said "the nerves of her eyes were paralyzed and there was no hope."

Diagnosis by these disease detectives: viral meningoencephalitis, which causes inflammation of the brain and the meninges, the membrane that covers the brain. In severe cases, it can cause inflammation of the optic nerve that can result in a slow and progressive loss of sight.
The study ends by suggesting why Wilder, her daughter and collaborator Rose Wilder Lane, and/or the book's editors decided to identify Mary Ingalls's illness as "scarlet fever": because it already had a literary pedigree. And the book and TV adaptation have been misleading future doctors ever since.