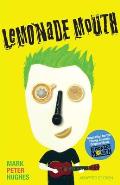 I heard an interesting publishing story at last week's
SCBWI New England
conference.
Mark Peter Hughes
originally published
Lemonade Mouth
as a young adult novel in 2007. This story of a teen-aged band got good reviews, and Mark and his family toured the country to promote it.
Earlier this year the Disney Channel unveiled its adaptation of the book to big audiences. Even a moderately successful television show reaches more people than solidly successful book by multiple orders of magnitude, and the
Lemonade Mouth
movie was more than moderately successful. It may not be a
High School Musical
phenomenon yet, but it attracted a lot of Disney's core viewers.
The only problem is that those core viewers aren't "young adults"—they're tweens, and possibly tween
wannabes
aspirants. What would those readers find when they looked for
Lemonade Mouth
in bookstores? What would their parents find?
Mark and his publisher decided to
tweak the text for the book's likely new readers
as they reissued the paperback. The adaptations seem small—nothing to the plot, little to the language. The result is, I suppose, a "Disney version," but it also speaks more directly to most tweens' interests. It may also reflect a future of authors tailoring books to different readerships, something that digital formats will make even more economic.
Still, I can't help but wonder if sixth-graders will whisper to each other to check out the library's old hardcover copy of
Lemonade Mouth
.