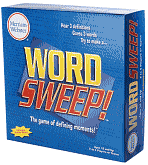 Sometime last year my writing-group friend Steve came up to me after a meeting and said something like, "I have a feeling you might be a word person. Are you?"

I said, "I subscribe to two online word newsletters and think The New Yorker and The Atlantic went downhill when they stopped printing puzzles. Why do you ask?"

"I've got a board game for you to try."

Now when Steve said a board game, he didn't mean a game he'd bought off the shelf. He meant a game that he'd invented himself and was developing with the Intellinitiative Game Company and Merriam-Webster's. Steve wasn't just looking for another word person; he was looking for a word guinea pig.

So of course I said I'd try his game. And I was bundled away to a lab and locked in a room with a big mirror along one wall, forced to play round after round of...

No, of course not. Steve had me and a bunch of other nice people over to his house to try out the game. I like to think our feedback helped improve it a little, but it's so beautifully simple in concept that there wasn't a lot of room or need for improvement.

Now Steve's game has come onto the market, and it's called Merriam-Webster's Word Sweep. You can buy it through eToys, Target, Barnes & Noble, and other right-thinking retailers. Playing is simple: you're given a letter and definitions for three words beginning with that letter. Those words come one after another in a Merriam-Webster's dictionary. It's up to you to figure out what they are.

There are a few additional rules governing harder and easier word series, moving around the board, point-stealing, and so on. The rules are also written to let kids and adults compete against each other fairly, and I can attest that that worked. I can also attest that being a word person makes Word Sweep more fun, but it doesn't make it easy.

This page offers a sneak preview of the game. And here's a story on Steve's creative process from his local newspaper.