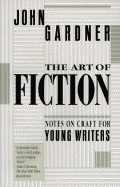 The two prose stories about Jex and Ticca exemplify the adage that "there are only two plots: A stranger rides into town, and A man goes on a journey."
In "Relief," the young narrator flies to other planets in Jex's spaceship. In "Just," the narrator finds Jex has arrived on her moon and gotten caught in a murder investigation.
Quote Investigator looked into
the origin of that adage, which has been attributed to many authors in recent years. It found that:
Credit most commonly goes to John Gardner, author of The Art of Fiction.
He never wrote that, though he wrote an exercise in starting a novel in omniscient voice that could be stretched and misconstrued into that statement.
Gardner was being credited with making that pronouncement as early as 1986, four years after his death.
Therefore, if you find wisdom in the adage, give Gardner the credit. If you think it's far too reductive and at best it's a rubric for starting a story, be pleased there's no proof he said it.