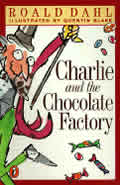 Last month I
wrote about
the suddenly fashionable but not really new news that Roald Dahl had originally described Charlie Bucket as black.
Maria Russo of the
New York Times
interviewed
Catherine Keyser, Associate Professor of English at the University of South Carolina, about the part of Dahl's early draft for
Charlie and the Chocolate Factory
.
Keyser identified the agent who advised Dahl against making Charlie black as Sheila St. Lawrence of the Watkins Agency in New York. She had pushed Dahl into
giving children's books a try
, so she was a big part of his literary success and wealth. Their working relationship ended in a transatlantic row, of course.
In the first draft Charlie's status as a "small NEGRO boy" became significant in a scene that Keyser summarized like this:
Charlie ends up in the Easter Room, where there are life-size candy molds of creatures, and one of these life-size molds is shaped like a chocolate boy. Charlie is fascinated by this. Wonka helps him into the mold and gets distracted. The mold closes, and the chocolate pours over his body and he is suffocating and nearly drowning in it. And it hardens around him, which feels terrible. He's trapped. He's alive but can't be seen or heard. No one knows where he's gone. Then he gets taken to Wonka's house to be the chocolate boy in Wonka's son's Easter basket. . . .

As far as this version goes, I think it is a really powerful racial allegory that might seem very surprising coming from Dahl. I think the mold in the shape of a chocolate boy is a metaphor for racial stereotype. In the early 20th century, chocolate marketing in both the U.S. and England was very tied up in imperialist fantasies and in connecting brown skin with brown chocolate.
I can't help thinking that Keyser's reading of the episode as a "powerful racial allegory" is too charitable to Dahl. He was not known for his broad sympathies, after all.
What's more, the guiding pattern in
Charlie and the Chocolate Factory
is that the kids get in trouble because their personal weaknesses draw them toward a certain type of candy, and they end up nastily transformed in some way related to that candy. This Charlie is "fascinated" by the chocolate boy mold, even wishing to get inside. It feels like Dahl was thinking that a black boy would naturally be drawn to the chocolate boy mold. That's the suffocating stereotype itself, not an allegory for it. Dahl eventually dropped that characterization of Charlie and that episode, letting him sharpen the book's moral allegory.
Another part of the interview:
When you started your research, had anyone else ever written about "Charlie's Chocolate Boy"?

No. It was mentioned by Dahl's biographer, Donald Sturrock, and it was mentioned in Lucy Mangan's popular book "Inside Charlie's Chocolate Factory."
So actually I think the answer to that question is "Yes." Even if, as Keyser goes on to state, no previous author had looked at the episode "in great textual detail."