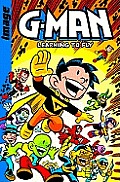 My favorite set of brothers in superhero comics appears in
Chris Giarrusso
's
G-Man series
. Mikey, called G-Man by his friends, is the younger brother: eager, imaginative, perseverant, and naive. David, who took the name Great Man, is his elder: capable, exasperated, bossy, and protective.
Giarrusso was at the
MoCCA Festival
last weekend, and I did something I'd never done before: commissioned a sketch.
Specifically, I asked for "Great Man cosplaying Nightwing and G-Man cosplaying Robin. The Tim Drake version." To which Giarrusso answered, "Really?" and "Um, I don't have all the costume details in my head."
I assured him I wouldn't sweat the small stuff. After all, he publishes with Marvel. (And he knows the costumes well enough to produce these versions of
Batman, #1
, and
Superman/Batman, #26
.)
By the end of the afternoon, I was the proud owner of this piece of art.
I asked Giarrusso about the next volume of G-Man. He said he was more than halfway through creating that story, in which the fraternal dynamic of Great Man and G-Man will be tested by the arrival of…a baby brother!
(And speaking of annoying baby brothers, last week
Caanan
, creator of
Max Overacts
,
posted
this
convention sketch of Damian Wayne and his babysitters
, titled "Don't Be Rude—Be a Hero.")