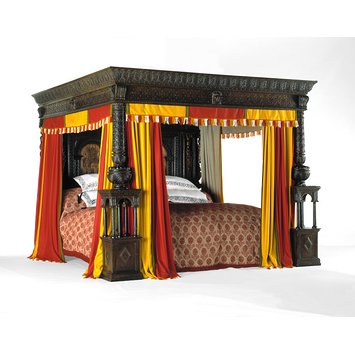 A longtime
Oz and Ends
reader alerted me to the
New York Times interview
with London designer Murray Moss, in which he talks about revamping the
display of the Great Bed of Ware
at the Victoria and Albert Museum:
I love the Bed of Ware. The museum, through no action on its own, cleaned up the act of the bed — because it's in the museum, it must be a noble bed. It's this giant carved, circa 1590 to 1600 Elizabethan bed.

But the truth of the bed is that it was commissioned by an inn in the town of Ware, in Hertfordshire, as an Elizabethan publicity stunt to advertise, I'm sure, something along the lines of "Have the best sex of your life in the biggest bed in England." They spoke about it at the time. Writers wrote about it and said it could sleep 20 couples. Shakespeare included it in a very bawdy way in "Twelfth Night." I thought, why don't I put the sex back into the Bed of Ware, because that's something I can do.

How do you do that?

You put 14 pairs of what look like Elizabethan prostitute shoes around the bed, to suggest that 14 occupants, plus a 15th — whoever rented the bed for the night — is sleeping in it.
Among the literary allusions to this monument are:
"As many lies as will lie in thy paper, although the sheet were big enough for the bed of Ware in England." —William Shakespeare, Twelfth Night.
"Why, we have been…" "…In the great bed at Ware together in our time." —Ben Jonson, Epicene.
"One of my longings is to have a couple of lusty able-bodied men, to take me up, one before and another behind, as the new fashion is, and carry mee in a Man-litter into the great bed at Ware." —Richard Brome, The Sparagus Garden.
"A mighty large bed bigger by half than the great bed of Ware; ten thousand people may lie in it together and never feel one another." —George Farquhar, The Recruiting Officer.
"And all (except Mahometans) forbear / To make the nuptial couch a 'Bed of Ware.'" —Byron, Don Juan (of course).
Yeah, those British authors weren't seeing the great bed as "noble" before the Victoria and Albert.